CITY OF TREES
03 Dec 2019
Architect Stefano Boeri has revealed plans to create a Smart Forest City near Cancun, Mexico, that will be covered in 7.5 million plants and is designed to be a pioneer for more sustainable and eco-efficient urban developments.
"Smart Forest City Cancun is a Botanical Garden within a contemporary city, based on Mayan heritage and in its relationship with the natural and sacred world," explained the Italian architect, Stefano Boeri Architetti. "An urban ecosystem where nature and city are intertwined and act as one organism."
Smart Forest City Cancun plans to be built on a 557-hectare site near the city of Cancun and will include millions of tree, shrub and bush species, specially selected by botanist and landscape architect Laura Gatti.
The extensive swathes of greenery throughout the city aim to deplete the pollution that would normally be prevalent in the urban environment. it is Boeri's hope that the project will be constructed instead of a colossal shopping mall that has originally been proposed for the area.
"Thanks to the new public parks and private gardens, thanks to the green roofs and to the green facades, the areas actually occupied will be given back by nature through a perfect balance between the amount of green areas and building footprint," said the firm.
The project is part of Boeri's Forest City concept, a plan that aims to see cities made up over plant-covered skyscrapers across China's urban fabric.
The firm believes that the city could be a pioneer for more sustainable developments, as concerns about climate change, pollution, deforestation, animal extinction etc rise rapidly. "The effort of the smart Forest City of Cancun could make our world a better place, reducing significantly the negative impacts on the environment, possibly being a pioneer for a new kind of human settlement, a manmade city for nature and biodiversity," the firm states.
As the city will be 'smart', data will be used to improve aspects of city life, however, it will be managed with "full respect to the privacy of the citizens". "Big data management is used to improve the Governance of the city, hence, the life of its citizens," said the studio. "Sensors are distributed within the building fabric: they collect and share relevant information, which is then centrally analysed and turned into suggestions in support of everyday life. For example, by mapping on an app the expected outdoor comfort experience within certain areas of the city.
"Energy flows are monitored, in order to suggest to the user's certain energy measures. For example, running their washing machines or dishwashers during peak generation conditions, in order to get a cheaper energy rate, while supporting the energy management of the mechanical systems."
This system could aid in the prevention of diseases and ensuring energy usage is optimised.
Stefano Boeri has teamed up with the German engineering company Transsolar to design Smart Forest City Cancun to be self-sufficient in the production of its own food and energy. Solar panels will provide power, farmland that will be irrigated with an embedded water system and water will be collected in a basin at the entrance of the city, which will include a desalination tower, to be distributed along the canals.
The site is closed in by 'water gardens' that will bolster it against flooding, due to its proximity to the Caribbean Sea. These waterways can be used for transportation of goods and residents.
An internal electric and semi-automatic mobility system to be developed by Milan firm Mobility in Chain (MIC), which means that residents can leave polluting and disruptive vehicles on the edge of the city.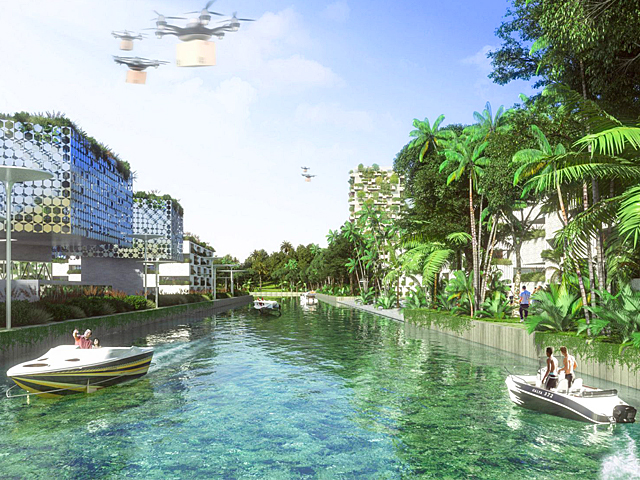 The 130,000 residents will become 'gardeners' of plants with a huge variety of affordable housing that will be covered in plants, which will be aimed at all types of inhabitants including families, students, researchers, professors and more.
The city is also designed to be a centre of advanced research with six facilities that will address some of the prevalent issues in today's society: bio-healthcare; astrophysics and planetary science; coral reef restoration; precision farming and regenerative technology; smart city; and mobility and robotics.
"The idea behind this project is to create a district dedicated to research and innovation (the fields will be: molecular biology, robotics, IT, etc.) where academic institutions and research centres meet, along with big multinational corporations and the new generations of students and researchers, Mexican and from all over the world," said the firm.
The Smart Forest City is predicted to absorb 116,000 tons of carbon dioxide with 5800 tons of CO2 stocked per year.
Images via Stefano Boeri Architetti
SEARCH
SUBSCRIBE TO ENEWS
MORE NEWS
FLOATING GARDEN MASTERPLAN
BUTTER FACTORY TRANSFORMS INTO ARTS HUB
URBAN FARM TO FEED SYDNEY'S DWINDLING FOOD BOWL
SYDNEY PUBLIC SPACES IDEAS COMPETITION
BROOKLYN BRIDGE BROUGHT TO LIFE
WHY CONSTRUCTION TEAMS SHOULD EMBRACE AI AND AUTOMATION