CALLIOPE CEMETERY UPGRADE
20 Jul 2016
Boyds Bay Landscaping recently completed a sensitive upgrade on the Calliope Cemetery in the Gladstone region, redesigning and improving the existing grounds with their usual attention to detail.
The Central Queensland township of Calliope is part of the historically rich Gladstone area. The oldest graves in the existing Calliope Cemetery date back to 1884. While cemeteries tend not to be a pleasant subject, they are an essential part of every community, and by making the surroundings as beautiful as possible it can brighten the often sombre occasions conducted there.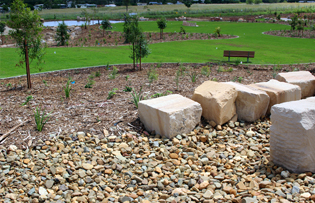 Continuing Boyds Bay Landscaping's long, successful working relationship with Gladstone Regional Council they were more than happy to assist in bringing the exceptional level of quality and detail to this project that the Council has come to expect.
Project works included:
Initial site clearing and demolition
Concrete pavements and stairs
Balustrading
Retaining walls
Feature boulders
Concrete edging
Automatic irrigation system
Softscaping and planting
Furniture installation
Shelter
Signage
Extensive stone work
Design changes and modifications to the scope of works required quick thinking and flexibility from the project manager and the rest of the onsite crew, but in the end it proved no obstacle for the completion of this immaculate site. All team members are proud of what this project accomplished and hope the space continues to flourish and serve the local community for many years to come.
Located in Tweed Heads, with regional offices in Brisbane, Gladstone and Sunshine Coast, Boyds Bay Landscaping are able to serve the design and landscape needs of a large area.
As a full service company Boyds Bay offer services in landscaping, environmental works, planning, ecological restoration, maintenance and, with their own nursery and landscape supply division, are well equipped to handle any domestic or commercial project.
To view the full range of services on offer from Boyds Bay visit www.boydsbaygroup.com.au
SEARCH
SUBSCRIBE TO ENEWS
MORE NEWS
MELBOURNE TAKES STEPS TO GREEN THE CITY
PLANT BREEDING AND CONTEMPORARY AUSTRALIAN GARDEN DESIGN
GREENING THE CITY
VERTICAL URBAN FARM GROWS ON THE STREETS
ASIA'S LARGEST URBAN ROOFTOP FARM
CLIMATE CHANGE EXTREMES CANCEL OUT BENEFITS FROM TREES