BRIDGING THE LEGEND
20 Aug 2019
Two separated halves of a medieval castle in Cornwall, England, have been connected for the first time in 500 years thanks to a new footbridge that seeks to complement the coastal landscape and unlock the site's history for visitors.
Tintagel Castle, located on a rocky peninsula in North Cornwall, has been inextricably linked with the legend of King Arthur and the Knights of the Round Table since the 12th century. Selected following an international design competition, the new bridge – which spans a 58-metre gorge – follows the line of the original route between the gatehouse on the mainland and the courtyard on the headland jutting out to sea.
Designed by Ney & Partners and William Matthews Associates, the bridge comprises two independent cantilevers of approximately 30 metres that reach out from either side to almost touch in the middle. At the centre of the crossing, a narrow four-centimetre gap represents the transition between the mainland and the island, the present and the past, the history and the legend. The bridge seeks to complement the region's coastal landscape, while unlocking the history of the site for visitors.
The legend tells that the mother of the King Arthur lived in the castle of the then Duke of Cornwall. So impressed was Richard Earl of Cornwall by the Arthurian myth that in the early 1200s he built a castle at Tintagel, with the land-bridge an integral part of its design. The crossing vanished in the 15th century. 500 years later it was reconstructed out of steel, slate, and oak.
"Tintagel castle has been made whole again," said Kate Mavor, chief executive of English Heritage, the charity that manages the site. "Once more, people will cross from one side of the castle to the other and their footsteps will echo those from hundreds of years ago. As a charity, English Heritage's core purpose is to care for historic sites like Tintagel Castle and to inspire people to visit them. Our new Tintagel bridge does both – protecting the castle's archaeology and bringing its story to life in a brilliant, imaginative way."
From August 11, 2019, visitors are able to walk in the footsteps of the medieval inhabitants of the Cornish castle and enjoy coastal views not seen since the middle ages. It is hoped that the new crossing will provide a step-free route onto the island, helping more people to enjoy a visit to the popular castle.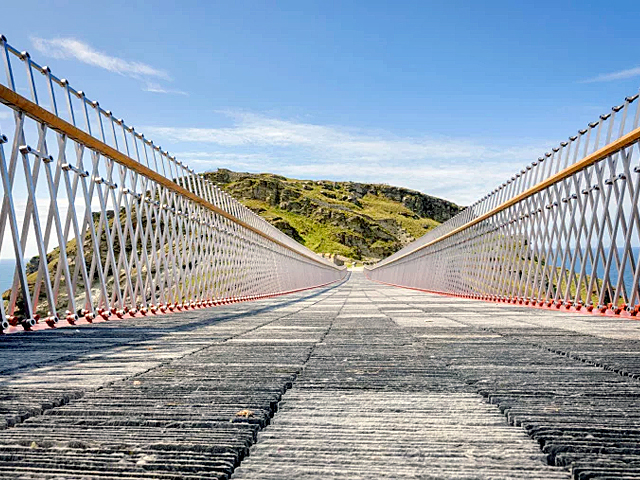 Via designboom | All images and video courtesy of English Heritage
SEARCH
SUBSCRIBE TO ENEWS
MORE NEWS
OVER THE LOOKING GLASS
RUMBLEFISH BRIDGE INSPIRES COMMUNITY
COMPOSITES OUTPERFORM IN HIGH-RISK ENVIRONMENTS
INTERCHANGE PAVILION ON THE RAILS
PLANS FOR KANGAROO POINT BRIDGE SPEED UP
LANDMARK TAKES ON URBAN CANOPEE