BARANGAROO STREET STYLE
01 Mar 2018
With the dramatic transformation of Barangaroo South into a thriving waterfront precinct, Emerdyn provided a suite of grates that seamlessly blends the historical with the modern.
The architect's brief for Barangaroo South was to transform Sydney's historic industrial precinct into a lively waterfront district. Lend Lease, the site's developer, sought the supply of quality cast products to overlay street drains and tree surrounds, and chose Emerdyn for their trusted craftsmanship.

Emerdyn fabricated stunning custom cast bronze drain grates, cast ductile iron tree grates, and slotted drain grates. True to the brief, the bronze and ductile iron streetwear bring the streets to life while providing a nod to the precinct's former industrial nature.
Ductile iron has strong impact and fatigue resistance compared to other varieties of cast iron. Usually painted for street presentation, this project called for unfinished ductile iron for its surface-corrosion aesthetic. Juxtaposed with shimmering bronze grates, the suite of products seamlessly balances the precinct's past and future perfectly.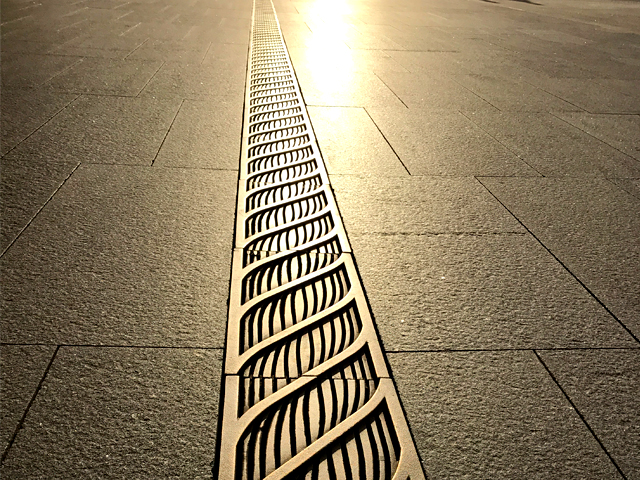 Sound quality processes and systems have ensured Emerdyn's consistent supply of items required throughout different project phases, and the products add to Barangaroo South's undeniable street style.
SEARCH
SUBSCRIBE TO ENEWS
MORE NEWS
DRAINS, GRATES & COVERS, OH MY!
INDUSTRY-LEADING BUILDING LINE PROTECTION
ACO DRAIN TECHNICAL HANDBOOK
INDUSTRY-LEADING TECHNICAL SUPPORT
TRAFFIKDRAIN | THE LEADING DRAINAGE SOLUTION
DRAINAGE FOR HIGHWAYS & MOTORWAYS