AWARD-WINNING RESERVE 871
09 Nov 2017
Working in collaboration with Blacktown City Council, Proludic has created Reserve 871, an award-winning playspace featuring multi-generational play opportunities for the whole community.
There's no doubt that a successful project is always a team effort. In the creation of Reserve 871, Proludic collaborated closely with Blacktown City Council to deliver a wonderful recreation facility designed to function as a regional park.
Awarded the 2017 NSW Playspace Award for playgrounds over $500,000 by NSW/ACT Parks & Leisure Australia, Reserve 871 features a selection of play equipment that hasn't been used anywhere else in Australia.
View Reserve 871 in action!
Collaborating closely with Blacktown City Council, Proludic acted as both playground design consultant and supplier/installer of the play equipment. Their playground design applied the most up-to-date thinking on inclusive play design principles and accommodated many opportunities for multi-generational play. A standout feature, the Adventure Treehouse Tower helped make this project a unique playspace.
In assessing entrants for the 2017 PLA awards, judges considered:
Innovation and originality
Engagement with the community, stakeholders, colleagues and partners
Excellence in industry best practice
Environmental, social and financial sustainability
Achievements of project objectives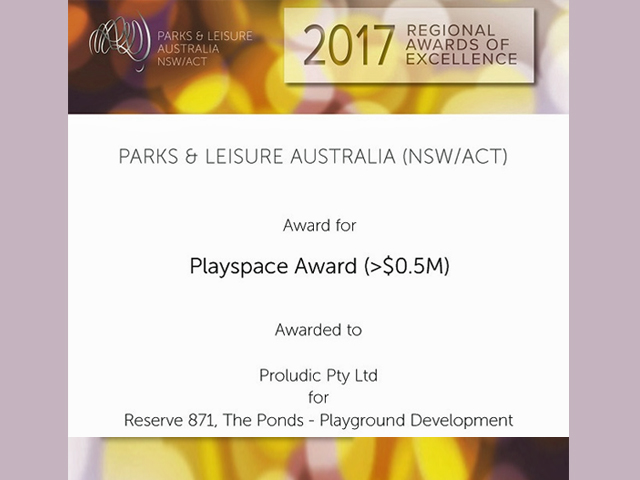 "Blacktown City Council would like to thank Proludic for their contribution to Reserve 871. The collaborative approach has proven to be successful through the Parks & Leisure Regional Awards," notes Amar Zein, Landscape Architect at Blacktown City Council.
"Proludic supplied and installed the equipment as per the timeline and therefore the playground was delivered on time. They demonstrated professional knowledge and experience throughout the entire process. Through the contribution of technical playground knowledge and landscape architectural principles, playground design and associated landscape works were developed," Amar continues.
Six other projects Proludic contributed to have also been recognised by Parks and Leisure Australia and AILA, as examples of well-designed playspaces. CLICK HERE to discover more about these projects and see how a playground transforms from a designer's vision into a reality.
Contact Proludic to see how they can help you with your next playground project.
SEARCH
SUBSCRIBE TO ENEWS
MORE NEWS
BREAKING FREE
PROLUDIC CELEBRATES 10 YEARS
THE NETHERLANDS' RING OF SWINGS
WEST COFFS RESERVE A TASTY ADDITION
IMMERSIVE EXPERIENCE AT THE SECRET GARDEN PLAZA
DIABOLO BABY® A GOOD DESIGN AWARD WINNER