ART TRANSFORMS EVERYTHING AROUND IT
15 May 2012
Artscape: The Nature of Sculpture works with clients who believe in the capacity of art to engage, add value and create a unique sense of place.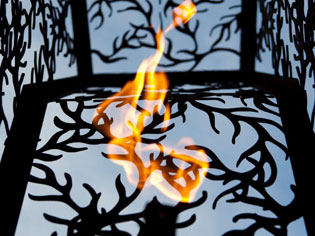 With over 30 years experience in commissioning Australian and international artworks for private residences across Australia, Artscape: The Nature of Sculpture offers clients access to its significant database of emerging and established artists and undertakes research as required to source a specific artist or style of work.
Artscape has extensive experience working on small and large scale projects, collaborating with architects, builders, landscape and interior designers to ensure all artworks commissioned fit precisely into their environments.
Recently presented with a design brief for garden lights, Artscape brought together sculptor Hopi Steiner and industrial designer Alex Polo to create a series of five unique gas lanterns for a private Sydney garden. The client wanted to replace the existing lights using the already installed gas outlets and create a sculptural feature outdoors which was visible from the main indoor living areas.
Fern Lights were designed to integrate with existing garden elements; a zinc water fountain and dramatic copper building façade. The lantern elements were laser cut from corten steel with bases made from cast polished black terrazzo.
For more information on Artscape, visit: www.artscape.net.au
SEARCH
SUBSCRIBE TO ENEWS
MORE NEWS
BENEFITS OF TRAVERTINE PAVERS
OUTDOOR LEARNING MADE COMFORTABLE
NEW RECREATION CENTRE FOR SYDNEY
UN-HABITAT'S URBAN RESPONSE
MARBLE ARCH HILL
WASTE NOT WANT NOT