ARCHITECTURAL LANDMARK AT TULLAMORE
25 Oct 2017
The Tullamore Estate playspace delivers a challenging and engaging environment for children to play and learn. The focal point of the space is a 'bird hide' play tower with elements that complement the treed setting as well as the contemporary urban residential environment.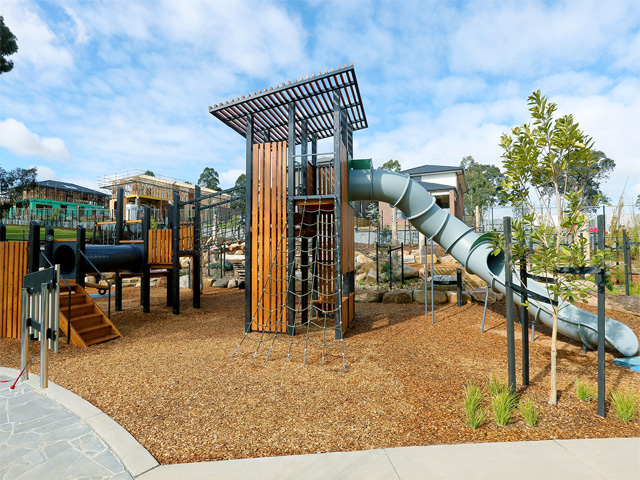 Designed by MDG Landscape Architects in conjunction with adventure+, the Tullamore Estate playspace is the primary play area within the new Tullamore Estate in Doncaster, Victoria. Located only 13km from Melbourne's CBD, this estate, which was previously Eastern Golf Course, is a highly sought-after location that required a quality, architectural style to suit the surroundings.
The aim of the landscape architect was to integrate a new playspace within the existing treed environment, taking advantage of the existing site character and natural shade. Claire Bradbury, senior landscape architect involved in the project said, "We saw the playspace as an extension of the existing landscape setting that delivers a challenging and engaging environment for children to play and learn, including opportunities for climbing, sliding and natural or adaptive play experiences that are stimulating and interesting. We allowed the natural context to inform the landscape forms, built elements and spaces to create a distinctive sense of place."
The play tower was designed with the idea of creating a focal point for the space. adventure+ created the tower with narrow timber battening, which accentuates the height of the tower and gives the desired 'bird hide' and 'treehouse' style.
"The play equipment is designed to complement the existing mature trees with material references in the rough sawn log timber elements in combination with more modern refined timber battens to integrate the equipment with the surrounding contemporary urban residential environment," says Claire.
A subdued colour palette was selected, which included two different colour stains used on the timber to ensure the tower suited the natural colours of the landscape.
Also included in the playspace is a rope and natural log play structure and a log forest. Designed by the MDG, adventure+ helped facilitate the installation.
SEARCH
SUBSCRIBE TO ENEWS
MORE NEWS
INTERCITY PLAYSPACES REIMAGINED
A NEW ERA IN PLAYSPACE DESIGN
EXPANSION DOUBLES VIC WATER PARK
RETRO BEACH PLAYSCAPE
EQUAL PLAY FOR MEADE RESERVE PARK
FORPARK PLAY CATALOGUE OUT NOW