AQUATOWER MAKES A SPLASH!
21 Nov 2019
The trio of swimming pools at Winton Aquatic Centre now includes an exciting new waterplay space from Playscape Creations that encourages the kids to enjoy splashing around both in and out of the pool.
In the central heartland of Queensland lies Winton, a small town steeped in nature, culture and history. Located 1100km north-west of Brisbane, Winton is a thriving destination for travellers from around Australia, with prehistoric dinosaur sites, boulder opals, stunning National Parks and the legend of Waltzing Matilda and now it has an attraction that wows the entire region!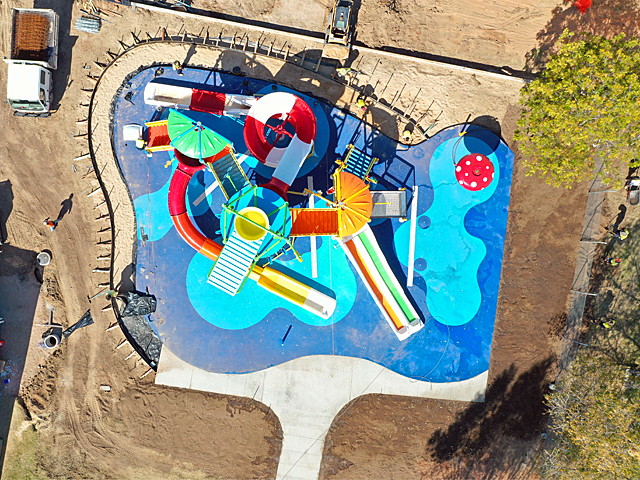 In a bold move to prioritise youth engagement in the town, Winton Shire Council's vision included a dedicated waterpark but at a scale substantial enough to create a drawcard for the whole region. With a wish list including waterslides and elevated towers, the facility was envisaged to attract travellers from all over Queensland to discover the town and create ongoing economic and social benefits for the whole community.
Featuring four slides, net climbers, water cannons, a multitude of interactive elements and a mega dumping bucket at the top of the structure, the brightly coloured tower entices children to explore their whole environment and find their next challenge.
The project design stage included a full geotechnical report which identified highly reactive soil on site and the need for 108 screw piers to be drilled at 6m to underpin the structural waterplay slab and support the 12+ tonnes of Aquatower structure and hydraulic loads.
A fully managed water recirculation, filtration and sanitisation system has been designed and installed, minimising ongoing water use and asset maintenance costs. Upon practical completion the aquatic centre staff undertook a full operational handover and training procedure including backwash, programming and general maintenance systems.
The final project is a valued community asset and a fantastic boost for the town, enticing people from Longreach and other communities to drive the 2+ hours to enjoy this space.
SEARCH
SUBSCRIBE TO ENEWS
MORE NEWS
DIABOLO BABY® A GOOD DESIGN AWARD WINNER
BREAKING FREE
A CHALLENGING COURSE
PLAY IN THE SKY
INDOOR CARDIO CLASSICS FIT FOR THE GREAT OUTDOORS
NEW SPORTS CENTRE FOR ALEXANDRIA