AN UNDERWATER METROPOLIS BY 2030
03 Dec 2014
Self-sustaining underwater communities could soon be a reality according to a conceptual 'Ocean Spiral' project.
An Atlantis-like underwater metropolis could be a reality as soon as 2030, according to research conducted by the Japanese construction company Shimizu Corp.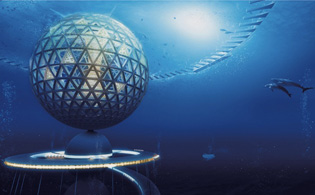 The conceptual "Ocean Spiral" project would see the creation of multiple self-sustaining underwater communities located 4km beneath the ocean's surface. The helical structures would be home to up to 5,000 people each, and would be made up of resin components, produced using huge industrial 3D printers.
Each Ocean Spiral would be topped by a watertight floating dome containing businesses, homes and hotels, which would submerge underwater during bad weather conditions.
Beneath this, the spiral would wind its way down to the seabed to allow scientists to create an "earth factory" of natural resources that could be harvested for energy and materials.
The spiral pathway would be connected to a research facility, which would excavate the seabed for precious metals and create energy for the city above using temperature differences in ocean water. Desalinated water would be created using hydraulic pressure and fish farms would be built around the structure. The proposal also mentions harnessing the power of microorganisms to convert carbon dioxide to methane energy.
"This is just a blueprint by our company, but we are aiming to develop the technology that would enable us to build an underwater living space," commented a Shimizu spokesman.
Shimizu predicts that the first spiral will take five years to build at an estimated cost of $30 billion. The company says the technology to sustain underwater life will be ready in 15 years, meaning residents could move in as early as 2030.
The concept was developed in partnership with Tokyo University and the Japan Agency for Marine-Earth Science and Technology.
SEARCH
SUBSCRIBE TO ENEWS
MORE NEWS
DOUBLE THE FUN WITH PROSLIDE FLYINGSAUCER®
ALL THE BELLS, LESS OF THE WHISTLES
THRIVING IN THE GOLDEN YEARS WITH OUTDOOR TRAINING
URBAN STREETSCAPE GETS A FACELIFT
THE IMPORTANCE OF SHADE STRUCTURES
DUST CONTROL SOLUTION FROM SOILBOND