AILA NATIONAL AWARDS
22 Oct 2014
Landscape architects were celebrated at the AILA National Awards, which were a centrepiece of the Forecast Festival of Architecture held in Brisbane earlier this month.
The Australian Institute of Landscape Architects (AILA) National Awards have recognised the strength of the country's burgeoning landscape architecture industry, with Taylor Cullity Lethlean (TCL) emerging as the big winner.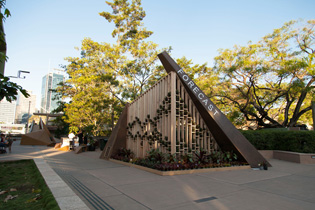 The AILA National Awards recognise and celebrate outstanding achievements and contributions in design, planning, urban design, land management, research and communication and residential landscape architecture.
TCL took home six gongs, including the coveted Australian Medal for Landscape Architecture for their planning of National Arboretum in Canberra with Tonkin Zulaikha Greer and Urban Design National Award of Excellence with BKK Architects for their work on Dandenong's coveted Lonsdale Street Redevelopment.
Greg Grabasch of Western Australian based landscape architecture firm UDLA, won the National President's Award for his work on a unique documentary entitled 'WA Women in Landscape Architecture'.
Prince Alfred Park and Pool by Sue Barnsley Design, Neeson Murcutt Architects and City of Sydney was recognised for its reinvigoration of this public space in Sydney with a National Award for Design.
The National Awards, held on October 17, were a centrepiece of AILA's Forecast Festival of Landscape Architecture, which celebrated this country's most innovative landscape architecture projects and ideas from October 16 to 18 in Brisbane.
The Jury was made up of well-respected built environment professionals Adrian Pilton, Lorrae Wild, Catherine Keirnan and Shane Thompson.
Adrian Pilton, AILA Awards Jury Chair, said the standard of this year's entries was incredibly high, and TCL's planning of National Arboretum was a compelling example of a landscape architecture project making a significant impact both within the industry, and on the Australian public.
"The designers succeeded magnificently in creating a legacy for the nation and one which is of genuine international significance," says Pilton.
"Taylor Cullity Lethlean is to be congratulated on their achievement."
Mark Frisby, AILA National President, also paid homage to Greg Grabasch, of UDLA, who won the National President's Award.
Frisby says he was pleased to recognise a passionate industry member making a significant contribution to landscape architecture by initiating and funding the revealing documentary.
"The WA Women in Landscape Architecture documentary provides valuable historic insights as well as exploring current workplace issues and gender equality," he says.
"Importantly the film challenges the profession to develop practice models that are more inclusive, supportive and nurturing of woman.
"I hope Greg's contribution inspires others to investigate the history and direction of the profession further."
Frisby adds that the National Awards and Forecast Festival were a big success, and AILA, Australia's key body for landscape architecture, is approaching its 50th year in 2016 in terrific shape.
Forecast Festival of ArchitectureBrisbane hosted a pioneering event exploring how the landscapes of our cities, public spaces and natural environment are designed and governed through the inaugural Forecast Festival of Landscape Architecture.
Presented by AILA, Forecast brought together thinkers, collaborators and innovators whose work intersects between landscape architecture, the built environment and city government.
The festival aims to make a lasting impression on Brisbane, a city globally recognised for its highly activated outdoor public spaces, such as South Bank parklands, which formed Forecast's backdrop.
The festival also hosted a free public exhibition featuring work from some of Australia's top landscape and architecture photographers at SLQ.
The Festival comes at a time of exciting growth for the landscape architecture industry, which has been reflected in a surge of AILA's membership from 1,400 in February to 1,850 in August.
Photography by Orion Zuyderhoff-Gray.
SEARCH
SUBSCRIBE TO ENEWS
MORE NEWS
THE IMPORTANCE OF SHADE STRUCTURES
ALL THE BELLS, LESS OF THE WHISTLES
URBAN STREETSCAPE GETS A FACELIFT
THRIVING IN THE GOLDEN YEARS WITH OUTDOOR TRAINING
DUST CONTROL SOLUTION FROM SOILBOND
DOUBLE THE FUN WITH PROSLIDE FLYINGSAUCER®