A RIVERSIDE UPGRADE
27 Jun 2019
A damaged and deteriorating timber walkway and boat ramp along the River Torrens has been upgraded with APR's bespoke, sustainable WPC decking, transforming the structure into a public riverside walkway.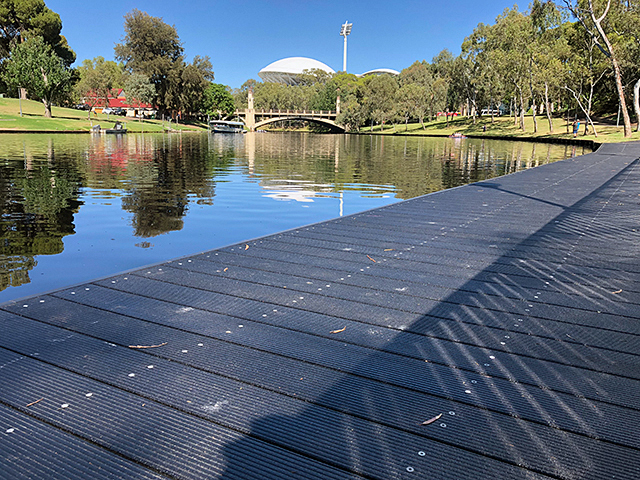 The old walkway and boat ramp structures at the River Torrens in Adelaide had suffered years of water damage and deterioration, and were posing a risk to the public and those at the rowing club.
Advanced Plastic Recycling (APR) was commissioned to transform and rejuvenate the structure and bring new life to the area with its state-of-the-art range of wood plastic composite (WPC) decking products.
The new structure was to be used by the rowing club and the public, and thus had to meet Adelaide City Council's building and design requirements, in addition to being constructed from environmentally sound and sustainable materials.
APR removed the old timber structure, with only the original piles to remain, and replaced it will a new WPC decking structure, using APR's 190 x 55 Tri I Groove decking profile. The size of the structure was doubled to ensure the new walkway was safe and accessible for all members of the community.
An eco-friendly structure was an important factor of the project, making APR's WPC products ideal, as they are constructed from recycled and reclaimed materials. These products will not rot, rust, splinter or leach chemicals into the environment, making them the perfect long-term, environmentally-sound solution for this riverside project.
APR custom-manufactured and supplied their WPC decking for the entire project, and the new ramp and walkway were built for both longevity and aesthetic appeal.
Find out more about APR's range of sustainable WPC products by contacting them or visiting their website via the links below.
SEARCH
SUBSCRIBE TO ENEWS
MORE NEWS
RUMBLEFISH BRIDGE INSPIRES COMMUNITY
THE POWER OF PLANTS COMBAT AIR POLLUTION
THE PEOPLE'S GREENWAY
MINIMISING BUSHFIRE IMPACT ON PUBLIC ACCESS STRUCTURES
PLANS FOR KANGAROO POINT BRIDGE SPEED UP
PEDESTRIAN BRIDGE GIVES 'EXPLODED VIEW' OF STACKED TIMBER