A PRETTY SWEET CHILDREN'S MUSEUM
09 Apr 2014
A kids museum that leverages the qualities and characteristics of candy is a delicious take on the traditional museum building.
SPORTS collaborative have designed a proposal for the Louisville children's museum competition in Kentucky called "The Sweetness".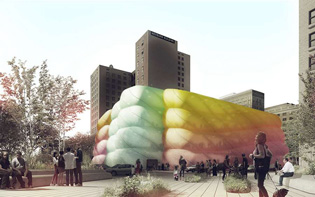 The focus of the museum is to create a novel architectural expression of fun, delight and amusement by exploring something kids find irresistible – candy.
Unlike other children's museums that simply utilise literal interpretations of objects children find interesting in the architecture, the project leverages the qualities and characteristics latent in candy as a precedent for architectural expressions of atmosphere, program and form. By considering such qualities as gumminess, softness, colour, translucency, and texture, the structure provides a stimulating experience for children, parents, and even the larger urban community.
The exhibit spaces are arranged like ringed layers of salt water taffy, and the museum's different programs are set up to overlap slightly in certain spaces, like the gradual colour transitions of gummy worms. The bright hues chosen for the walls were inspired by jelly beans, with a little bit of the transparency of gummy bears, and the texture is based on that of fruit-shaped snacks.
The Sweetness creates a landscape where spaces, programs (or "flavours") bleed into each other. Contrary to "grown-up" museums where walls are needed to display art, this museum engages the ground planes with interactive exhibits, allowing us to reconsider the role of walls in design.
SEARCH
SUBSCRIBE TO ENEWS
MORE NEWS
EXCITING THINGS TO COME
HUSQVARNA CHAMPION OF CHAMPIONS: LANDSCAPER OF THE YEAR ANNOUNCED!
INCLUSIVE PLAY AT TRESILLIAN PARK
AUSTRALIAN-MADE RESTROOMS
DANCE FLOOR TO DIVING PLATFORM WITH BLUECHIP TRAXION
ENCHANTED BOTANIC GARDENS