100 DAYS TO GO
30 Apr 2012
Giant Olympic Rings at the Royal Botanic Gardens in Kew, West London, mark 100 days to go until the London 2012 Olympic Games.
Marking 100 days to go until the London 2012 Olympic Games sees the latest 'spectacular' installation of the Olympic Rings unveiled – at the Royal Botanic Gardens, Kew, west London.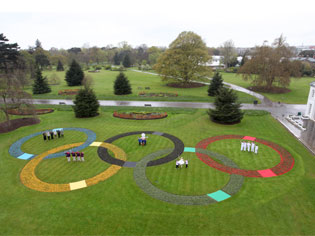 The Rings, which are 50m long and 15.5 metres each in circumference, are made up of a total of 20,000 plants and are visible from the Heathrow flight path.

The flowers were planted over a period of five days by a team of volunteers and Kew staff and consist of Pansy 'Light Blue', Viola 'Clear Yellow', Viola 'Black Delight', apple mint (Mentha suaveolens) and Viola 'Red Blotch' plants. They will be in full flower for the summer.

Standing in the Rings are athletes' families, torchbearers, Games Maker volunteers, London 2012 Festival participants and schoolchildren - all getting ready to welcome the world in the summer.

Images copyright/credit: LOCOG.
SEARCH
SUBSCRIBE TO ENEWS
MORE NEWS
RESTROOM 'SKIN' A NOD TO THE PAST
NO-BOUNDARIES RESTROOM LETS YOU PEE IN THE FOREST
TAKING ON "THE BEND"
KOMPAN OUTFITS QUEENSLAND'S LARGEST PLAYGROUND
STREETBOND™ 3D CROSSING
HIGH LINE GOES HIGH ART